What to Consider Before Deciding to Repair or Replace Your AC Unit
Deciding whether to repair or replace your AC unit can be a difficult decision. With so many variables to consider, it's important to weigh your options carefully. In this blog post, we will go over the key factors to consider before deciding to repair or replace your AC unit.
We will cover topics such as cost comparison, assessing system age and efficiency, and additional services to consider for AC maintenance. By the end of this post, you should have a better understanding of what to consider before deciding to repair or replace your AC unit.
Cost Comparison - Repairs Vs Replacement
Are you struggling with deciding whether to repair or replace your AC unit? It can be an overwhelming decision, but you don't have to go it alone. Before making your decision, consider several factors such as the age and condition of your unit, estimated costs of repair and replacement, energy efficiency, and warranties.
Firstly, determine the age of your current AC unit and assess its condition. If it's over 10 years old and has required several repairs in recent years, it may be more cost-effective to replace the unit for long-term savings on your energy bills. Check if using the unit poses any safety risks, such as exposed wiring or worn-out components, as this may also influence your decision.
Secondly, compare the estimated repair costs with the estimated replacement costs to decide which option fits your budget best, considering short-term and long-term scenarios. Consider whether the repair is a temporary or permanent solution and what the repair may require in the future.
Thirdly, evaluate energy efficiency by researching the performance level of your current air conditioner compared to newer models in the market. Upgrading to a more energy-efficient model can lead to lower utility bills over time, providing cost savings compared to older models. Be sure to check warranties available for repairs and replacements, and any rebates or tax credits available for energy-efficient models.
Lastly, estimate the longevity of new units being considered compared to the expected lifespan based on the current model type to give yourself peace of mind that the choice you make is based on a thorough investigation.
Assessing Your System's Age and Efficiency
Assessing the age and efficiency of your home's AC unit is crucial before deciding whether to repair or replace it. Take into account the upfront cost of repairs versus a complete replacement, including parts, installation fees, and duct cleaning costs. Evaluate the age and efficiency rating of your current unit; if it's 10 years old or older with a SEER rating below 13, replacing it entirely with a newer model may be more cost-effective.
Compare repair versus replacement cost with energy savings from upgraded units. Newer AC models offer higher efficiency ratings, which can save money in the long run on electricity bills compared to continuing the use of an older system that is inefficient by today's standards.
Check for any government energy incentives offered for purchasing newer models, which can help offset upfront costs associated with replacements. Evaluate regulations for hazardous material disposal such as Freon, which may affect what needs to be done when removing an older system from your home.
Determine the age of your AC unit and any warranties that may still be applicable, including manufacturer warranties that can help cover costs associated with repairs or replacement depending on the age of your current system. Analyze the cost of repairing versus replacing your AC unit while considering short-term expenses and long-term energy savings. Newer model AC units will be more efficient overall, leading to better performance while using less electricity over time.
Finally, analyze efficiency ratings among different AC models available today versus those used several years ago, so that you can make informed decisions based on facts rather than assumptions. This will help you make the right decision for both short-term budgeting needs and long-term energy-saving goals.
How to Determine if Repair or Replacement is the Best Solution
Making the decision to repair or replace your AC unit can be difficult and overwhelming. It's important to consider several factors before choosing which option to go with.
Consider the age of your air conditioning unit. Again, if it's been in use for over 10 years, it might be time for a replacement. Check for available parts for your current AC system to know what kind of repairs are possible and at what cost.
Evaluate the energy efficiency of your current AC system compared to newer models on the market, which could potentially save you money in monthly energy bills over time. Compare the cost difference between repairing the unit and replacing it entirely and take into account the cost of necessary repairs and labor.
Also, consider how frequently you use the air conditioner and how long you plan to stay in your home. If you plan to move out soon, repairing might be a better option than replacing the entire unit. Look into local or state rebates that can help offset costs.
Assess the performance of the AC unit currently and inquire about any discounts from contractors or local suppliers. Do your research before making an informed decision about whether repairing or replacing is the right choice for you.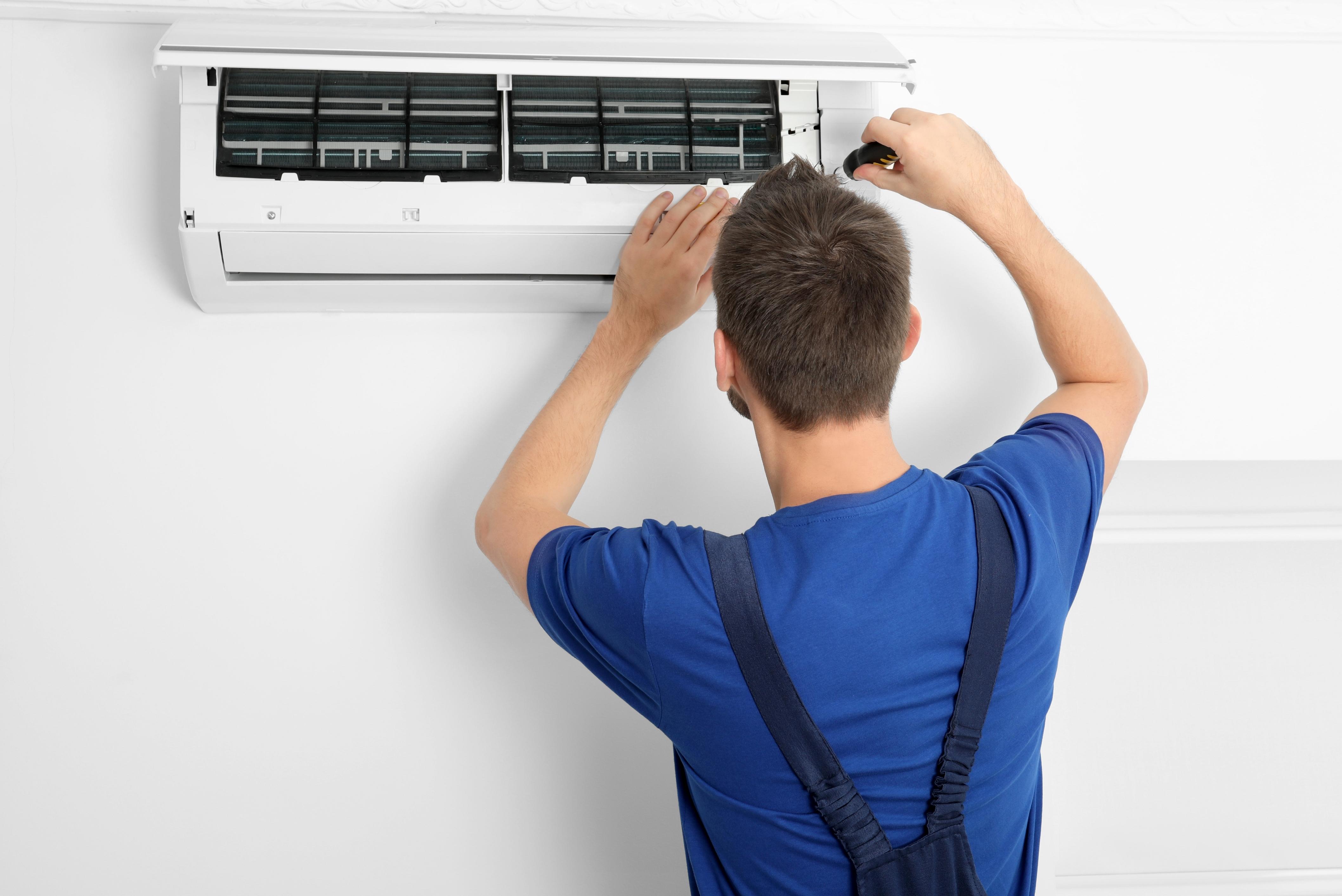 Additional Services to Consider for AC Maintenance
When it comes to AC maintenance, there are several services to consider before deciding whether to repair or replace your unit. Understanding repair and replacement costs, considering additional services like duct cleaning or generator installation, environmental impact, and warranties are just a few factors that can impact your decision.
Whether you hire a professional or tackle repairs yourself, being thorough is essential. Regular tune-ups can keep your system running efficiently and safely, ultimately saving you money in the long run.
Benefits of Regular AC Maintenance Aids in Repair or Replacement Decisions
Regular AC maintenance is important for keeping your system running smoothly and efficiently. It can identify potential issues before they become costly repairs, improve energy efficiency, extend the life of your unit, and help you avoid emergency breakdowns.
When deciding whether to repair or replace your AC unit, it's crucial to consider the cost implications not only upfront but also future costs associated with repair or replacement. Performing regular maintenance may be more cost-effective than investing in a new unit, but replacing your old model with a newer one may have long-term energy savings.
It's also important to follow recommended timeframes for repair and replacement. Manufacturers suggest that air conditioners should last 12-15 years, depending on regular maintenance and environmental factors, less if regular maintenance has not been performed. If your unit is past its recommended date or shows wear and tear from normal use, consider repairing or replacing it altogether.
When evaluating between repair and replacement, consider the environmental impact associated with the decision. Replacing an older model with a newer one reduces emissions from wasted energy use, while repairs can increase emissions due to additional components. Proper functioning units are necessary for ensuring healthy indoor environments.
Regardless of whether you choose to repair or replace your unit, work with experienced service providers who understand AC installation, duct cleaning, generators, heating installation, heating repair, and indoor air quality maintenance plans.
A skilled professional can provide accurate cost estimates and offer the best solutions based on individual requirements, allowing you to make well-informed decisions for your home or workplace.
Conclusion
Making the decision to repair or replace your AC unit can be overwhelming. As you evaluate the cost of repairs versus replacement, consider factors such as system age and energy efficiency, additional services like duct cleaning or generator installation, environmental impact, and warranties.
Doing your research is essential to making an informed decision that fits both your budget and long-term needs. Furthermore, investing in regular maintenance for your AC unit can ultimately save you money in the long run by avoiding costly repairs down the line.
To learn more about AC Repair, visit our website, or call Adams Heating and Cooling at 205-339-6540 to schedule an evaluation appointment.