What Is Duct Cleaning?
Duct cleaning is the process of removing dust, dirt, debris, and other pollutants from the ductwork of a heating and cooling system.
Why Is it Important To Clean Your Ducts?
It's important to clean dirty ductwork for a number of reasons, including:
Improved indoor air quality: Ducts can collect a variety of pollutants, including dust, dirt, pollen, mold, and mildew. These pollutants can be harmful to your health, especially if you have allergies or asthma. Duct cleaning can help to remove these pollutants and improve the quality of the air in your home.

Increased energy efficiency: Ducts that are clogged with dirt and debris can restrict airflow, which can make your HVAC system work harder and less efficiently. Duct cleaning can help to improve airflow and make your HVAC system more efficient. The National Air Duct Cleaners Association (NADCA) states, "Generally, the greater the buildup, the greater the energy loss. Removal of the buildup of particulates on HVAC components restores energy performance to the system."

Extended equipment life: Ducts that are dirty and clogged can put extra strain on your HVAC system, which can shorten its lifespan. Duct cleaning can help to extend the life of your HVAC system by reducing the amount of wear and tear on the equipment.

Reduced maintenance costs: Ducts filled with debris and contaminants can require more frequent maintenance, such as filter changes and tune-ups. Duct cleaning can help to reduce the need for maintenance by removing pollutants and debris from the ductwork.
Health Effects of Dirty Ductwork
Having ducts filled with contaminants has been linked to several health issues. If your ducts are not cleaned regularly, you end up breathing in air impurities that can affect you both physically and mentally. Those with compromised or weakened immune systems can suffer greatly.
Common health issues related to dirty ductwork include:
Trouble breathing

Asthma flairs

Skin rashes, hives, or eczema

Itching

Headaches

Concentration difficulties

Fatigue

Itchy, watery eyes

Runny nose

Sneezing

Coughing

Congestion

Sore throat or throat irritation

Low-grade fever

Allergic reactions

Brain fog, confusion, or memory problems

Insomnia

Mood changes
It's almost unbelievable the number of problems that can happen to you, your family, and your pets just from unclean air circulating throughout your home.
Imagine if you were able to filter and clean the air that you breathe to help alleviate most of these types of issues. Wouldn't that reduce your stress and bring you peace of mind?
That's our goal at Adams Heating and Cooling … to provide the highest quality of air for your home or business, so you can relax and enjoy healthful living.
Causes of Health-Related Issues Due to Dirty Ductwork
Are you wondering what in the world could make people so sick from breathing air in their own homes? It's a combination of many factors that stems from a buildup of materials within the air ventilation system.
There are all sorts of places within the ductwork where dirt, dust, mold, mildew, dander, skin particles, bacteria, viruses, and more lurk, get hung up and build upon each other. Over time the buildup of the particles increases. As air passes over this debris, it picks up harmful particles that are passed to your lungs when you breathe it in.
These pollutants include things like dust, dust mites, chemical products, tobacco smoke and e-cigarette by-products, bacteria, viruses, fungus, pet dander, dead skin cells, mold, mildew, pollen, disease-carrying pests, and rodent remains or droppings.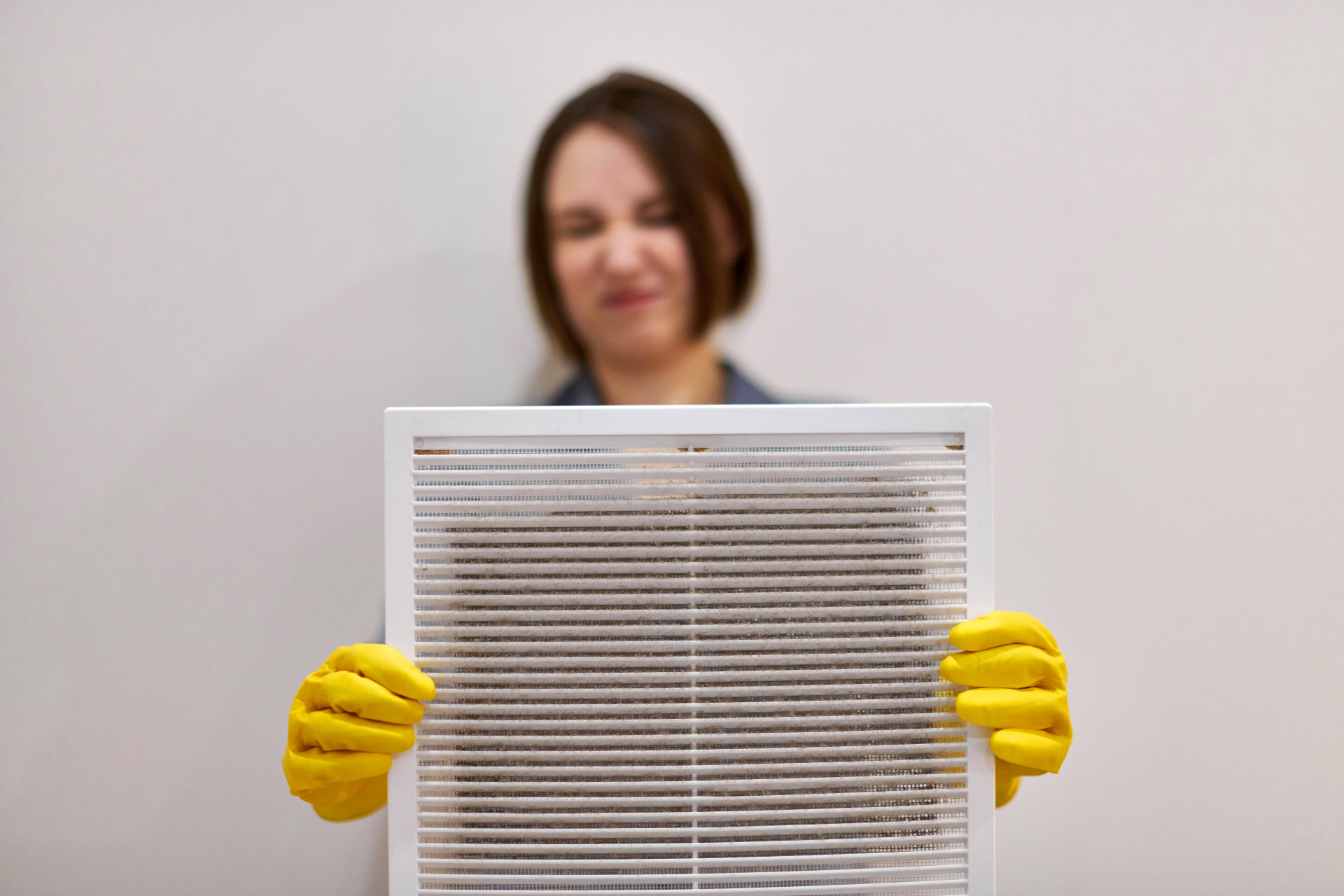 It's prudent to remove these types of contaminants on a regular basis.
How Often Should Your Ducts Be Cleaned?
The frequency with which you need to have your ducts cleaned will depend on a number of factors, including the age of your home, the type of HVAC system you have, and the level of activity in your home. However, it is generally recommended that you have your ducts cleaned at least once every two years.
How Is Ductwork Cleaned?
Inspect the ducts - First, a visual inspection of the system is done, including the area near the return and supply registers. Return registers bring air into the HVAC system while supply registers send air throughout the building. To see further into the ductwork, the inspection professional may use a camera to see areas that can't be seen easily by the naked eye. This is a great chance to check for any tears or damage that can lead to leaks and to repair them.

Apply negative air pressure - Next, the inspector will use a commercial-grade vacuum to collect debris from the ductwork system. In order to create good suction, the technician attaches the vacuum near the air handler and seals the registers.

Brush and lift stuck-on dirt and dust - To increase the amount of materials cleaned from the ductwork, the HVAC worker uses a variety of brushes and rotating agitators to coax the stuck-on dirt and dust from the walls of the ductwork.

Vacuum lifted debris - At this point, the inspector turns on the vacuum to suck out the loosened particles and contaminants from the ductwork.

Spray with disinfectant - Finally, a spray disinfectant is applied inside the ductwork to kill any bacteria or viruses remaining in the system.

Apply UV lighting - Some inspectors also use UV lighting to control pathogens. According to the NADCA, "One of the tools used to improve air quality from HVAC systems is the use of ultraviolet lighting within the system, intended to decrease the level of airborne pathogens and allergens going through the HVAC system and thus into the indoor air environment."

Clean other coordinating HVAC components - It's a good practice to have the other areas of your HVAC system cleaned at the same time as the ductwork because the components all work together as a cohesive system.
What To Consider When Deciding on a Duct Cleaning Company
If you are considering having your ducts cleaned, there are a few things you should keep in mind:
Choose a reputable duct cleaning company. There are a number of duct cleaning companies out there, so it is important to choose one that is reputable and has a good track record.

Be sure the company is industry-certified. Check the company's credentials to see if they are certified through North American Technician Excellence (NATE) or National Air Duct Cleaners Association (NADCA).

Get multiple estimates. It is always a good idea to get multiple estimates from different duct cleaning companies before making a decision.

Ask about the company's cleaning process. Make sure you understand the company's cleaning process and that they are using safe and effective methods.

Be prepared for the cost. Duct cleaning can be a costly service, but it is important to remember that it is an investment in your health and the health of your family.
Adams Heating and Cooling Specializes in Duct Cleaning
Adams Heating and Cooling provides effective duct cleaning services for homes and businesses. Duct cleaning is an important part of maintaining the air quality in your home or office. By having your ducts cleaned regularly, you can improve the quality of the air you breathe, increase the energy efficiency of your HVAC system, and extend the life of your equipment.
Call us to schedule your appointment at 205-339-6540.